Started as an artist
My father handed me a film camera when I was 10 years old and I fell in love with the darkroom. I attended RISD for a brief stint, worked as a graphic designer to pay for college, and graduated from Boston University for Film & TV—but not before
making a few videos.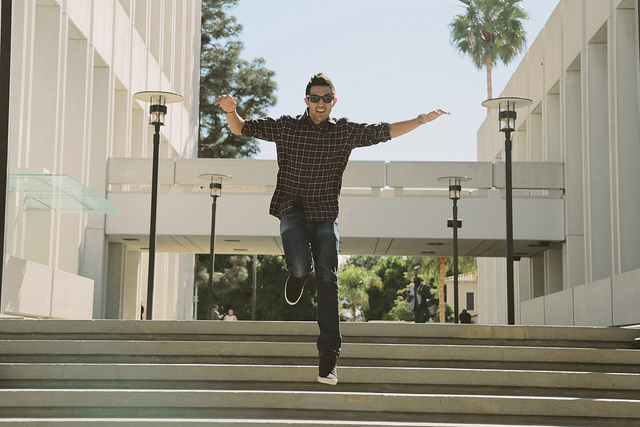 Worked in advertising
I moved to Los Angeles where I worked as a video editor, producer, and director for
TV commercials & branded content.
I also completed a Master's in Communication from USC and pulled off
Do Not Hire Me.
Advertising was exciting, but the daily work wasn't aligned with my core passion: design.
Now in product design
Returning home to San Francisco, I doubled-down on my design skills with a certificate in UX. I've held senior design roles at Asurion, Change Healthcare, and Goin before working at
Turo
. I've now spent 10 years working as a creative across advertising and design.
"He is at once reflective and engaging, all while bringing a design-thinking approach to working with people and teams."
Alexandra Ocasio-Cortez
U.S. Congresswoman (NY-14)
"Without question, one of the most impressive and intelligent people I've ever worked with. Not just a doer but a thinker, and a highly sophisticated and seasoned one at that."
David Yarus

Founder, JSwipe & mllnl
"He's fearless. No matter what we threw at him, he jumped in head first. He's a rare talent with a severe entrepreneurial drive."
Joshua Smutko
Creative Director, Omelet
"Give him an idea and he'll run with it, brainstorm with him and he'll help make an idea unforgettable."
Anna Villano
Creative Director, IntentLA
"Clearly a future thought leader, and a confident artist and strategist, Julian never failed to surprise and impress me. I can't wait to see what he does next."
Sarah Anderson

Chief Creative Officer, Omlelet (2011-2015)
Big Brands

AT&T
WIRED
Microsoft
Bon Appétit
Whole Foods
Bombay Sapphire
Condé Nast
Virgin Mega
Walmart
Verizon
Sprint
Sony
GQ
Lenovo
Jewel-Osco
Moet Chandon
Rockstar Energy
Magner's
Agencies + Networks

Treasure Hunter
Condé Nast
HBO
AJ+
mllnl
Cinemax
Intent LA
Milk Studios
The Good Stuff
Foundation Content
Allston Pudding
BuzzUniversity
Maker Studios
Pink News
Prettybird
DIRECTV
ShopAU
Omelet
Non-Profit

SFO Museum
FEED Projects
Alzheimer's Association
Brooklyn Youth Sports Club
Howard Thurman Center
LA Animal Control
Boston University
Scary Cow Films
Chabad
Rotary
Hillel
Transport & Urbanism

Turo
Goin
Mozio
HomeShare
Coast
BART

Food & Drink

E.P. & L.P.
Hub Bub Coffee
Parts & Labour
Copper Cane
Love & Salt

Design & Fashion

INDO Studio
Bend Goods
Wittmore
FIGS

Alexandria Ocasio-Cortez
Congresswoman (NY-14)

Sully Sullenberger
Pilot & Author
Dr. Raul Fernandez
Professor, Boston Unversity

David Yarus
CEO, mllnl Agency & JSwipe
Kyle Dardashti
Co-Founder, mllnl Agency

Andrew Wheelan
Creative Director
Yaniv Aronson
Mayor of Conshohocken, PA


---
Why product design?
To ignite people's imaginations about what's possible, so they can pay it forward.